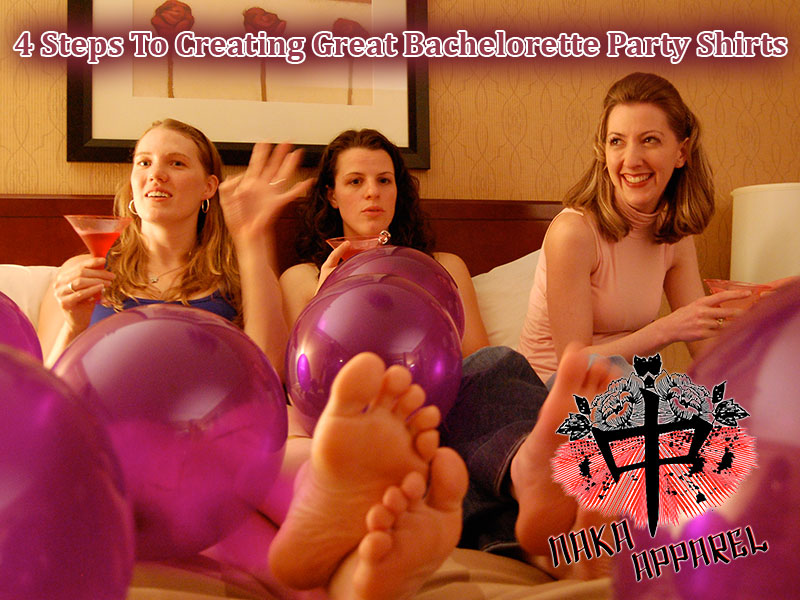 A wedding is not only an exciting time for the bride but also for the bridal party. While there are thousands of things to take care of before the wedding, none may be more fun (and memorable) than the bachelorette party. And bachelorette shirts are becoming more and more popular as a fun way to help the group bond and have fun. But, as any good maid of honor knows, there are many things to think about and plan for than just deciding on which screen printing shop will print your shirts or custom apparel. Here are 4 steps to help you in the process of coming up with a great concept and design that will truly last a lifetime.
Remember that bachelorette party shirts brings (and ties) your group together
Bachelorette parties are perfect to help alleviate stress from wedding preparations and they should be fun and relaxing. It's a time to get together, share memories and look forward to the future.
While it's definitely important to keep things centered around the bride, it is still important to find something that ties your entire group together. However, finding this commonality is easier said than done. By keeping communication open and getting feedback from the group, you're sure to come up with unique ideas that fits the personality of the bride (and group) and will bring everyone together.
Here are 14 bachelorette party ideas from The Knot:
https://www.theknot.com/content/bachelorette-party-themes
Determine the activities of your party
Once you find out the common factor or theme of your shirt, then look at the details of the party, such as the type of party, the location, etc.
What type of personality does the bachelorette have? What about the personalities of the group? Are you more conservative or can you get away with being more risque?
Another factor to look at is where your bachelorette party (or adventure) will be. We're in Las Vegas, which is a popular destination for bachelor/bachelorette parties and we've printed the gamut of shirts – from conservative all the way to "What Happens In Vegas Stays In Vegas" shirts.
Research online
Social media sites like Facebook, Instagram and Pinterest are great sources to find what other people have done in the past.
While these sites can be a great resource, if you do find something online (where the majority of shirt designs are found), be sure to put your own spin on it. Things like fonts, colors and design elements can all be changed to fit your individual group.
Here is a great resource from Pinterest for bachelorette parties: https://www.pinterest.com/explore/bachelorette-party-ideas/
Work with a good designer and printer
Once you've found or settled on a design, it's time to work with a professional designer – unless, of course, you have a graphically talented person in your group or at your disposal.
Don't make this step harder than it needs to be. You're not deploying a multi-million dollar marketing campaign for a Fortune 500 company. Keep it simple and fun by having screen shots or samples of what you're looking for. Give them your ideas and images of other things you like and let them take the helm and translate your ideas into a single design.
Very rarely does the process reach perfection after the first go-around so be sure to start early so you have time to make changes and revisions.
Want some quick ideas and design to get you started? See some popular designs to get your creative juices going.
Have you created or seen some great bachelorette party shirts? Leave a comment below and tell us about it.