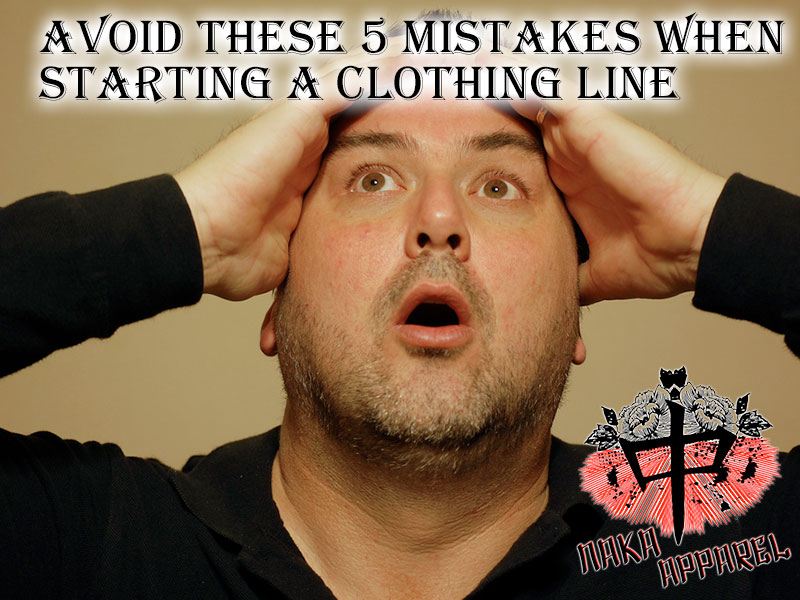 With the introduction of sites that allow people to create shirt designs and buy or sell them online, more and more people are going online to see their designs come to life. But, if you're looking to take it one step further and contemplating starting a clothing line, then read on so you can avoid these 5 most commonly made mistakes.
Not Partnering With The Right People
Your Graphic Designer
A lot of times, people starting clothing lines are artists or graphic designers themselves. This makes perfect sense as it's easy for them to create and construct designs.
However, if you are not an artist or graphic designer, then it's important you find a good designer to work with. When looking for a graphic designer, it's important to ensure the both of you are on the same page when it comes to style, design and vision.
Here are some things to keep in mind:
• Take your time and don't rush to work with the first artist you come across
• Be sure they are familiar with designing for apparel printing
• You'll need to work out all the details. Are you going to draw up mockups for them to convert to a digital graphic with no creative input or are you giving them a description and letting them take your idea and use their own creative touch?
If you are a graphic designer and you've never prepared files for t-shirt printing, then work with your printing company on how they need the files laid out.
Your Printing Company
You already know the screen printing company you choose to work with is an important decision, but you may not be aware of the scope and dynamic details that will have to be worked out between the two of you.
Things such as:
• Do they handle all the types of printing you're looking to do (different inks, athletic apparel, performance gear, etc)
• Quality of products (higher quality vs. lower, cheaper quality)
• Do you want tagless labels and print your logo/sizing on the inside of the collar
Beyond just the printing of the garments, you'll also need to discuss the process of ordering (how does the printer get the order when someone orders from your website), inventory control, drop shipping and more.
The apparel printer you decide to work with is an important choice so be sure they can handle the type of garments you're looking to print, they are professional and ask a lot of questions.
Not Knowing The Business
You've got great ideas, you're good at marketing and sales, but if you don't know the finite details of the business, then you're asking for trouble. Simple things like the ownership of artwork can become a major headache down the road if you don't have everything laid out, especially if you see success.
All the details of your business stop with you and not "knowing" or "being aware" of something is not a valid excuse.
Get proper consultation on everything you need. By starting out correctly in the beginning, you'll lessen the chance of developing any major problems in the future.
Thinking every design will sell
Keep in mind that not every design is going to be a hit with your audience. Don't get discouraged, but also, don't stop coming up with new designs. You'll need to keep releasing fresh designs to have your clients keep coming back to your store.
Not running your store like a business
Not Having A Website
This may seem like a no-brainer but whether you're a brick and mortar store or sell on third-party websites (Ebay, etc), having your own website is important.
The issue with 3rd-party sites is you're not in control of anything. Everything may be fine now, but you do not know what the company may do in the future. They could easily change their terms of service or make unfavorable changes that could have a major impact on your sales or income.
But, keep in mind, just having any website is not enough. We won't get into the art of developing an effective and streamlined e-commerce website but you need to ensure your site is streamlined to make it easy for customers to checkout, add related products, etc. You should also ensure your site is mobile friendly.
Inventory
If you're working with a company that will print and drop-ship on demand, then this is not a major concern for you as long as the company you're working with has everything it needs to fulfill the orders quickly. However, if you manage your own inventory and fulfillment, then it's important to have inventory in stock to ensure you can get your orders out to your customers in a timely fashion.
If you're out of stock on a certain item, be sure to update that on your store to avoid receiving an order from a customer and not being able to fulfill it right away. However, out of stock items could lead to loss of revenue, especially if it is a popular item and size.
Because of the hassle of stocking and managing inventory, it may be easier for you to work with a printing company that can handle this for you.
Statistics And Conversions
How closely are you monitoring your statistics? What is your personalization strategy? What is your Click Through Rate (CTR)? What is your conversion rate? Things like this are important for you to keep track of.
According to the personalization company Nosto:
• 90% of companies spend their marketing budget getting traffic to their stores
• There is an average 3% conversion rate (meaning 3 out of 100 visitors will actually buy from your store)
• Powerhouse Amazon.com has an 18% conversion rate
With a new store, your conversion rate may actually be closer to 1-2%. We're not telling you these stats to dissuade you from starting, but we just wanted to point out that it's important you are constantly looking for ways to improve.
This video will probably be a little overboard for a new store but has good information about the importance of personalization and how to improve conversion rates for your online store.
Not Marketing Your Product
Unless you have a sales and business development team working for you, you'll need to be the salesman. You can't be shy about it and if talking to people is not for you, then you either need to hire someone to do it for you or seriously consider if this is something you want to pursue.
Marketing your products is vital so get ready to roll up your sleeves and read on.
Specialize In Your Niche
By now, you should already know who your target audience is. It's important to become very familiar with your audience and immerse yourself into the community and become known in the subculture. By doing this, you're establishing yourself and your brand directly to your audience.
Obviously, you don't want to not be authentic about your participation either. Just like you hear people toting if you love your job, you'll never work a day in your life. Hopefully you'll work within a niche that you're interested in.
Not thinking big enough
This is one mistake many people make when working to establish a tshirt line.
In addition to establishing a great online presence through a solid website, social media, SEO, etc, you should also look at taking advantage of different offline opportunities as well. There are probably several "boutique" type stores in your area. Go in and talk to the manager (or owner) and try to work out a deal with them to carry your clothing.
Once you get a few of those smaller stores under your belt, you can then approach some bigger retailers.
Special Events
Your niche, or target audience, will most likely have some type of community, whether online or offline, where you can establish you and your brand.
Find out what special events, conventions or meet-ups are available and contact the organizers to see if you can attend and display/sell your products. If it's a bigger or more established group, they'll most likely want you to pay to be a "vendor" or "exhibitor." If your marketing budget is low, ask them to see if they'd be interested in any type of revenue sharing deal.
Conventions and special events are like magazines and newspapers. They have a set amount of space to work with and if they don't "sell" those spaces, they will just end up empty anyway, and no event organizer likes empty spaces and gaps.
Will this work every time? Absolutely not. In fact, this will only work once in a great while but that doesn't mean you can't ask them about it.
If you have absolutely no advertising budget, then look for other smaller and more local events and grow from there.
Internet Marketing
Search Engine Optimization
Some people will say SEO is dead but the truth is, SEO is an important component of your overall marketing strategy. Writing about how to properly do SEO for your ecommerce website would be an entire article all by itself, but just know that if you're not incorporating this tactic, you are missing out on revenue.
Social Media
Social media is a great way to market your products. The best part, it's free and you can target your specific audience. It does take time, but for those on a tighter budget, you can't beat this. Again, to write an article on how to correctly incorporate social media, that would take another full article but look at this resource on how to make more effective for ecommerce.
The main thing we always preach is to remember that it's called "social" media for a reason. You have to be social and interact with people. Don't just post discounts and coupons on your profiles. Build a base, interact and you'll have a very targeted group of people who are interested in your products.
Press Releases
Press releases are a great way to spread the word about the latest and greatest about your company or brand. For those of you who don't know, press releases inform the media of what's going on with your company. The goal is to make your press release newsworthy enough for the media to pick up the story and cover it. However, news is not limited to traditional media sources anymore. Now, bloggers and other online content providers can pick up your story and publish it on their website.
Starting a clothing line can be fun and very rewarding. However, you need to do your homework and be prepared to do some work. Any questions or comments, please leave them below.